It was time for my MOT and i was dreading it! although the bike hadn't done that many miles since the last mot i still got extremely nervous. but 30 minutes later it had passed with two advisories - a near minimum tread depth front tyre and a pitted rear disc... i was a happy bunny because it was still mechanically sound. as it was an early start and the MOT was now over with I wondered which way to head for home. The girls had birthday parties in the morning and afternoon and i was pretty much redundant for the day (as approved by the wife) I thought i'd head west along loch ness, take a piccie or two of Eilean donan castle, head up loch carron and do a slight detour back to the glen docherty view point, then back home via tescos dingwall for a top up of fuel.
The route
after riding out of Mitchells i stopped at the nearest layby and removed my baffles - and took the traditional photo like the proud owner that i am!
After brimming it at BP inverness i headed ness side to Loch Garry. This route is great if there were no other cars. because it was still early in the morning, traffic was mercifully light but there was the odd tourist who insisted on nessie spotting at 40mph but overtaking was relatively easy.
I stopped at a layby for a rest. a bus load of japenese tourists pulled in and clambered of their coach to take pictures of the loch, suddenly there was a scream. A older japanese lady was very excited and animated that she had seen the monster pointing wildly in my general direction... I zipped my fly, grabbed my camera and started snapping.
Loch Ness
I didn't get to snap the legendary beast of the water, so thought i'd beat the coach and headed off to loch garry.
a slight detour from the route to get to the loch garry stretch but definately worth it as the stretch of road has some amazing corners, and none of them scarry. deciding not to stop at the view point because its been seen many times before: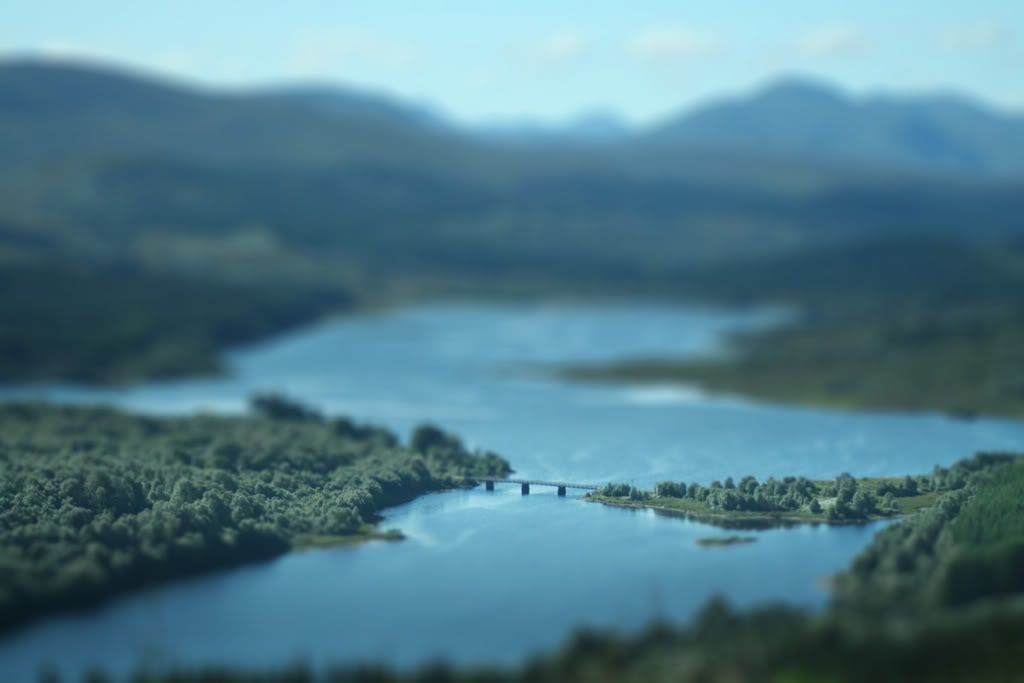 An old photo of loch garry
Just a bit up the road there was another viewpoint that i had never noticed before so i decided to stop for a rest. busy with tourists i park up, admire the view across Loch Loyne and get the camera out. I set up the camera, using my bike as an expensive tripod, i compose my shot, ready to take the picture when a trio of germans choose to stand not 10 metres directly infront of my shot! i stand there impatiently waiting for a few minutes until they piss off out of my way.
Loch Loyne
I continued onto Eilean Donan castle along the great A87. the sun was continuing to shine and there was next to know wind. traffic was a touch heavier but again they didn't get in the way. the next 42 miles are some of the very best sweeping twisties this country has to offer. the amazing views can be distracting though so i keep my eyes on start of the next corner all the way. the bike is singing, feeling smooth and happy to be out on a run.
I get to the castle and take a rest, a pee stop in a proper toilet block and get the camera out.
The better view of Eilean Donan castle
Setting off, I peel onto the A890 and head up a very steep incline and quickly catch up with a lumbering motorhome.... he's going a decent pace until he sees a viewpoint and decides to slam on the anchors and peel off into it. He recognised his mistake and gives me a wave of apology... apology accepted, i drop it down a peg or two and nail it up the remainder of the hill. this stretch of road is famous in these parts for a land slide that happened last winter. the road was closed for a few months and the detour was 140 miles long(!) fortunately the road was open and i could nail it through a short stretch of tunnel... a great sound being produced from the blue flame can.
I get to the roundabout at Achnasheen and as i'm close i turn right back towards glen docherty to snap the view again. its a bit blowy and with the wind theres quite a chill. I pull into the carpark and compose my shot. no tourists to get in the way this time:
Glen Docherty
I pack up and head for home. the fuel guage told me that i've probably got enough home just but i decide to head for tescos in dingwall to be on the safe side. the road from achnasheen to dingwall is a strange one. as soon as you turn onto the A835 you enter civilisation. but i'm not there just yet. the road is empty. i enter a long desolate straight and cave to the temptation of opening up the throttle. the needles in both gauges zoom clockwise and the world quickens up past me. I ease off the throttle and the bike settles it self. I recall my exact words to be "HOLY [Censored, 10 lines of "I will not swear on XJROC" Please] this thing can shift".
I get my fuel at dingwall and head home. I annoy a tractor and its long convoy of cars who can't pass it at a roundabout by just nipping through the queue and not waiting for the last car and i pull into home some 5 hours and 208 miles later. The wifes car isn't there and the back door is locked - she must be out at one of the birthday parties. I haven't got my house keys so i am forced to wait outside and enjoy the sunshine. I am bursting for a pee so i nip behind the shed and let loose the now famous monster!