Hello again peeps!!!
It's been over a year since my last visit to this forum and boy have things changed, both on the forum and in my personal life as well!! Of course, the fundamentals never change, the XJR still rules!
First of all I would like to say hi to all the familiar faces of old and to all the new ones that have joined in the past year.
For those of you that have followed my little baby's evolution, this is how you should remember her, as she was in March 07.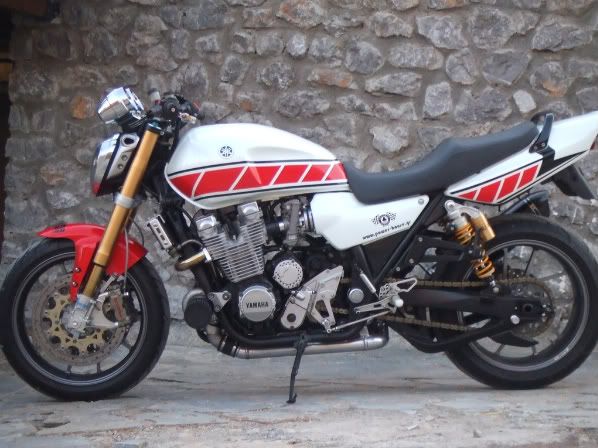 To repeat some basic info, it's a blow through turbocharger system operating between 0.5 Bar (7.2 psi) and 0.9 Bar (13 psi) boost with a compression ratio of 9.5:1, depending on what mood you are in…Basic engine mods include Falicon con rods, forged Wiseco pistons, Keihin FCR 39 Flat slides, Barnet Clutch Conversion with custom heavy duty springs. Other goodies include Ohlins USD forks (04 – 06 R1), swing arm (04 – 06 R1) with Ohlins fully adjustable rear shocks, full brembo braking system (including titanium – magnesium racing calipers, 320mm floating discs, braided hoses and 18x19 pump), braided hose and high pressure pump for the clutch (brembo), gale speed wheels, Ohlins steering damper, Translogic Quickshifter and Akrapovic carbon tri oval exhaust can.
To give you a better idea, here are the figures from a dyno run at low boost.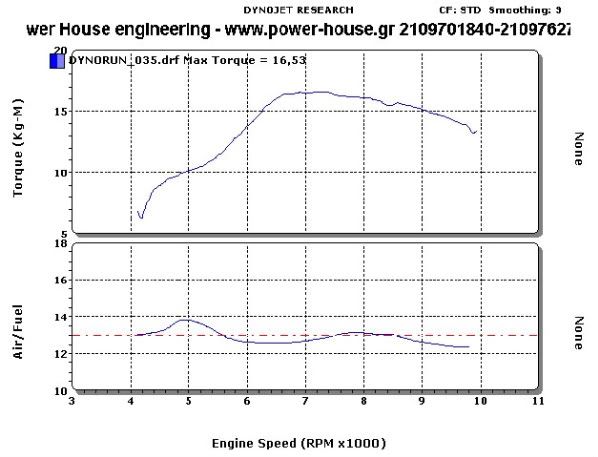 And here is a video of the actual run.
You can imagine that last summer was full of INTENSE experiences on the road!!! Despite the frightening numbers of hp and torque, the beast proved that it handled sweetly on the road, even on the twisty bits, as long as you had respect for it and your right wrist had surgical precision. Power wheelies at over 200km/h were a common occurrence and sliding with top gear was business as usual. Of course, top speed is still a mystery until today, acceleration remains mind boggling at over 280km/h but every second becomes a century and you just can't hold on to the bugger any more!!!! Bear in mind that I have a Fat Bar installed, so the riding position is awful for warp speed.
Summer was passing by and I was getting ready for a trip to the Czech Republic to watch the Brno MotoGP race and visit friends, when the first stroke of bad luck appeared. When I first bought the bike back in 03 (2nd hand), one of the first things I did was add a plastic coating inside the fuel tank, because the bike had been idle for over a year. Apparently, this coating could not withstand the pressure of fuel returning to the tank, resulting in FLAKING that blocked the fuel line to the carbs!!!! The risk of losing the engine when under boost was very high, so the only bullet proof solution was to buy a new tank. This meant that I had to forget about my custom red/white colour scheme, reverting to a rather dull looking all black!
The trip to Brno and back went smoothly, despite facing diverse conditions from a hailstorm to extremely high temps stuck in traffic.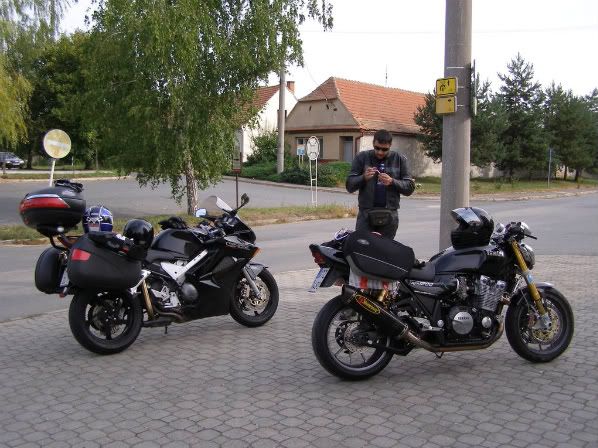 Upon my return, a new set of tyres was needed (after 5,000kms) so I had a bit of fun before the new ones were fitted.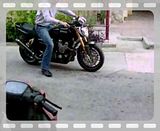 The winter that followed was quite mild weather-wise, even for Greek standards, so that allowed me to clock a total of 15,000km until last weekend….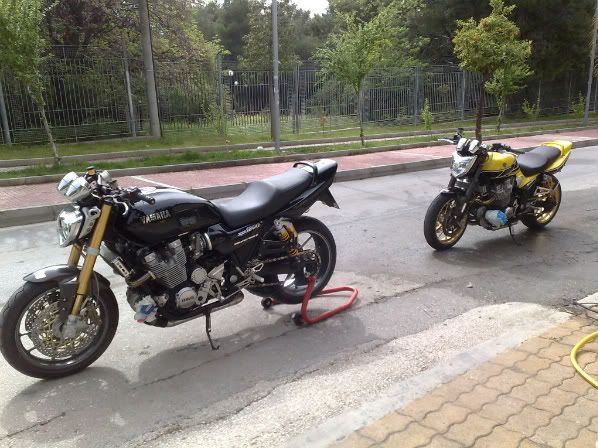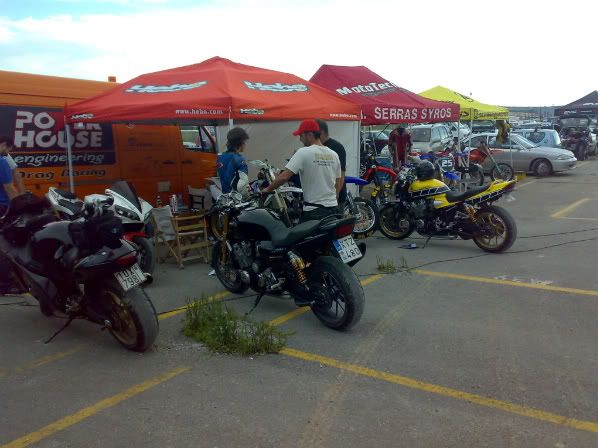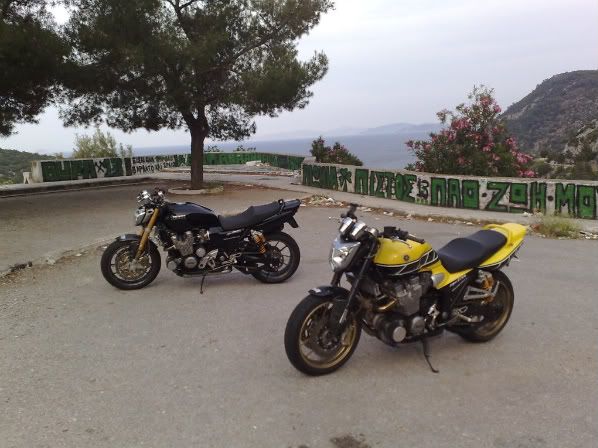 (YES, that's another turbocharged XJR, the bug is contagious!!!)
Plans for this summer included a trip to Italy and southern France, but AGAIN, bad luck made a strong come back in the middle of the summer. I had the wonderful opportunity to familiarize myself with a new engineering term…. DETONATION!!!
To make a long story short, poor octane fuel caused irregular combustion at wide open throttle and maximum load (top speed), resulting in this mess….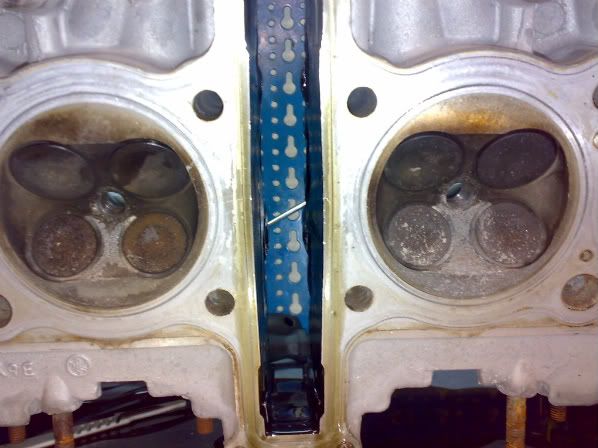 That's the bottom view of my cylinder head, cylinders 2 and 3 (the ones in the middle that have to resist the most heat)
A close up of #3 that suffered the heaviest damage.
A close up of piston #3.
A close up of piston #2
You can easily spot the sand like particles of metal that were molten off the piston and the cylinder head, traveling like a cloud through the exhaust valves and through the turbine, destroying that as well… 
That was 6 days ago….
I am now past the initial stage of shock….
Orders have been already placed and I am waiting for the first engine parts to arrive next week… The plan is to have it on the road again as soon as possible. Design changes include using a larger output turbine at low boost and at a slightly lower compression ratio, and the looks of the bike will become more extreme, returning to the classic red/white colour scheme, without an exhaust (!!!) and with a dragster like launch control system fitted!!!!!
Of course, I have also ordered a barrel of high octane racing fuel to keep in my garage!! It's insane, but that's the only way to make sure I wont fall victim of poor quality fuel, a serious issue even for standard engines here in Greece!!! If you look at the last pics again, you will note the excess carbon residue on my pistons just after 15000kms!!!!!
Now it's back to the waiting game, a familiar situation to anyone who has chosen to go down the precarious road of tuning the tits off his machine
Anyway, nice to be back and see a live community of happy xjr owners happy and growing…